All the tools you need to organize a successful virtual event
Hyper Smarter offers you the necessary and professional means to guarantee the success of your virtual event
SUCCESS STARTS WITH AN IMPACT LANDING PAGE FOR YOUR EVENT
We design customized landing pages for virtual events and fairs based on your brand's objectives and tone of voice. In addition to grant an excellent first impression, our landing pages help convey the goals of your event and provide users with a real motivation to register and actively participate in your virtual event.
Our virtual events in 3 steps
COLLECT PARTICIPANTS DATA THROUGH A FORM
Thanks to our personalized form you can decide and insert the most useful and relevant fields and gather the participants' information in a punctually manner and, in the case of a virtual fair, of your exhibitors.
WELCOME THE PARTICIPANTS IN YOUR VIRTUAL LOCATION
Once logged in, visitors will be transported into a beautiful 3D location where they will be able to move autonomously with an avatar around the various sections of the virtual event.
GUIDE PARTICIPANTS WITH A USEFUL INFORMATION DESK
Your participants will not get lost thanks to our useful information desk. In fact, the information desk acts as a meeting place and will help you whenever you won't be sure which direction you want your avatar to take.
Offer value with customized and feature-rich stands
With our virtual stands your visitors will be able to interact with you and your content. In fact, you can upload high-definition images, brochures, data sheets and play videos to give life to your stand.
Make the most out of our captivating models for your virtual stands.
Access a whole assortment of ready-made models and choose the one that best suits your brand's image or entirely customize it. Your exhibitors' stands will be the most beautiful ever: participants will be free to visit the event and save the content they prefer.
Allow participants to save what is most useful to them.
They will be able to download everything at the end of the virtual event. In addition, visitors will be able to exchange business cards with each other, freely walk around the event, participating in or holding presentations and live interviews. 
Make your virtual event special with our interactive tools
Thanks to the personalization of your avatar in all its parts, you can actively interact through private or group chats and video calls with the other participants of the virtual event.
Stand out with interactive webinars
Thanks to its structure, Hyper Smarter allows you to organize webinars and host speakers during your virtual event. Participants will also have the opportunity to actively participate through live questions and surveys.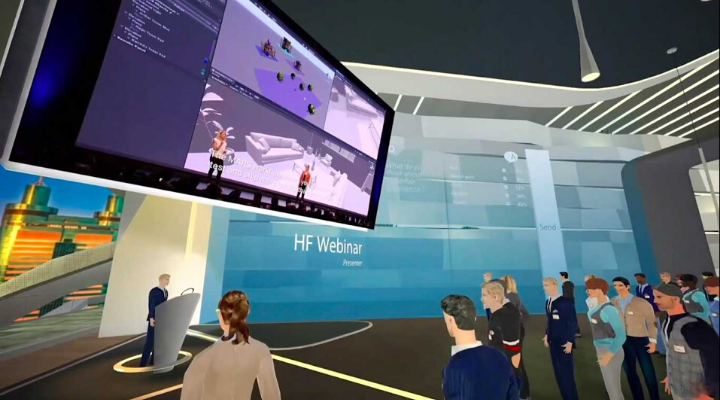 Mobile friendly and no software needed
Hyper Smarter is scalable and easy to use: it adapts to all the devices, even mobile, of your participants, it does not need any software installation thus allowing immediate and unhindered access of any kind.
Measure the impact of your event with statistical reports
The data will support the success of your event: our reports show statistical measurements based on registrations, turnout and participation of the visitors at a stand level. Don't worry, our analysts, together with our event managers, will help you interpret the data and will show you exactly what worked and what didn't in relation to your virtual event.