Personnel selection
Virtual Job Fairs
A virtual job fair to connect companies with job seekers. It allow those looking for a new job opportunity to interact with companies that are recruiting new talents: a completely new, safe and virtual way to accelerate the way candidates are selected
Request Information
Attract the best talent from all over the world with a virtual job fair
Involve people looking for new opportunities with employers through a virtual environment that maximizes interaction: thanks to our virtual job boards you can build a solid database and target candidates in a faster and smarter way!
Represent your company's culture with a customized stand
A virtual fair that allows companies to promote themselves and publish their job positions by personalizing their virtual stands with the design and information they prefer to communicate to possible candidates.
Employers will be able to take advantage of the database of members for skimming CVs and interview candidates directly at the fair
Employers will be able to evaluate the curriculum issued at their virtual stand and select job-seeking profiles in line with their needs and start scheduling interviews directly at the fair.
Live Webinar: an extra step for companies that want to recruit the best talents by actively involving them
• Direct and effective interaction
• Interactive panels
• Live video conference
Interview candidates in real time via text, audio or video chat
Make the experience of your virtual job fair indispensable for your exhibitors and visitors, allowing them to connect directly for interviews without the need to change platforms or download additional software.
A virtual environment that is beautiful to look at and easy to use ... everywhere!
Our virtual fairs are built in a totally customizable space compatible with all devices:
  Virtual notice board of open job positions
  Live video
  Chat tools to interact with employers and other participants
  Polls, interviews and integration with social media
If you share your best content you'll get to know the employers better
• Informative videos
• Brochures
• Presentations
• Job descriptions
• Photo galleries
An easy-to-use virtual bulletin board for finding positions and posting questions
Facilitates the communication process between employers and jobseekers at your virtual job fair. During the virtual fair, thanks to our interactive virtual bulletin boards, the former will be able to consult CVs and applications and the latter will be able to search for relevant positions corresponding to their experience and course of study.
Measure the ROI of your virtual job fair with specific reports
Our reports provide statistics such as:
• Number of visitors
 • Average duration of the visit
• Number of chat interactions
Your virtual job fair is in good hands thanks to a dedicated event manager and our support team
Bring your next recruiting event into a virtual space with a team ready to welcome your requests and answer your doubts before, during and after your virtual job fair.
AN EXCELLENT TOOL FOR THOSE LOOKING FOR A JOB:
• Allow job seekers to browse employer stands and access company information content.
• Allow job seekers to search for and post resumes on the virtual bulletin board to get an instant response from the employer.
• It will be possible to ask live questions about open positions directly to employers using our integrated chat tools
• Allow participants the ability to save brochures, forms and other useful content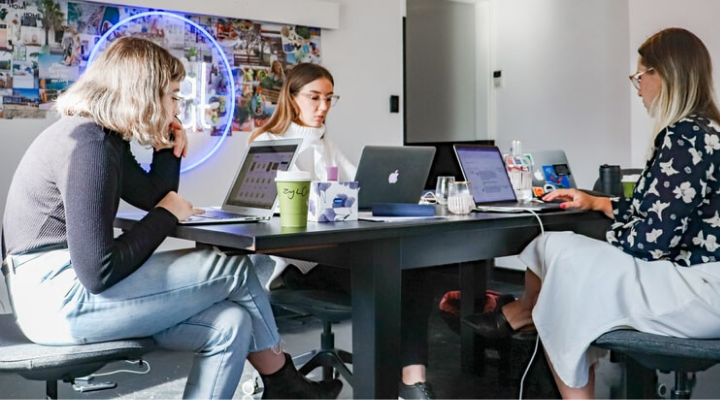 FAQ
How many visitors and stands can a Virtual Job Fair host?
Our virtual job fair can have an unlimited number of stands for employers and can support thousands of visitors at any time.
How can you monetize the virtual event's participation?
Employers may be charged for the costs of creating the virtual spaces for the stand and branding present throughout the virtual exhibition area. It is also possible to charge participants an entrance fee by asking them to buy an online ticket or to pay a participation fee at the time of access.
Do you provide personalized support during the virtual job fair?
Each virtual event has a dedicated event manager who assists companies in planning the event before it is live and guarantees its correct functioning when it is started.
Which tools are available to help employers find target candidates?
Employers can publish new job positions on a virtual bulletin board, by accessing the curriculum database developed during the event and selecting the relevant candidates by applying a series of filters. They can also conduct text, audio and video interviews with applicants directly from the virtual job fair platform. The stands can be connected directly to the employers' sites in the "work with us" section, further accelerating the selection and hiring process.